Tropical Cyclone Rona
10th to 12th of February 1999
Cyclone Rona batters North Queensland February 1999
Compiled from emails sent by Carl to Phil in Hong Kong

First displayed on Phil's website at http://www.drdisk.com.hk
---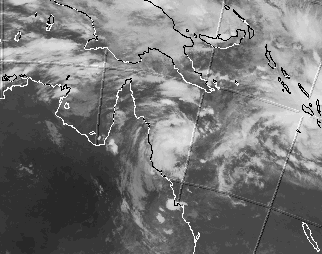 Animated GIF of Rona approaching North Queensland.

The sequence starts at 10amAEST 10/2/1999 in 6hr intervals.
You can see the fast development of Rona from well organised developing tropical low (4am 10/2 frame 3) to Cat 1 (10am frame 4) to Cat3 (4pm frame 5) in less than 12 hours, and, after crossing the coast (1 hr after 10pm frame 6), the separation of the upper level circulation moving westwards from the lower level circulation remaining near the coast.
You can also see TC Ella Cat 1, not well defined, RHS, on a southerly course.

Ex-Rona is now TC Frank Cat 1, about 1200km E of Mackay (10am AEST 19th), intensifying, and heading towards New Caledonia, in the Fiji TC warning centre area.

Cyclones in the Qld area are the most erattic and unpredictable tropical storms on the planet, perhaps due to the shape of the coastline and the Gulf of Carpentaria, and the most severe are in the WA region, though these are rather more predictable.

Carl
---
Message at 2am 9-2-99
Hi Phil,
We've had a few wet month's, with short-period rainfall records being exceeded in many parts of SE Qld, mainly from an extended heavy thunderstorm season.
[Edited by Phil]
The long range forecaster missed the mark by saying that the rainfall would come from a major cyclone in the Brisbane region during January, though he was correct about a very wet season.

We had 4 cyclones well off the coast during one week in late January, however, strong upper level westerlies blew all of them away, which was fortunate for us, but not so for Vanuatu and New Zealand.

The wet season arrived in good form on the 28th of Janurary, we've had over 400mm (16 inches) of rain in the last week alone, and it is still raining! It's been blowing a gale with intermitent rain squalls all day, becoming quite heavy tonight, and I guess we've had an extra 50-75mm (2-3 inches) over the last few hours.

Many roads in SE Qld are impassable due to flooding and landslides, and the heavy rain is not expected to ease off until well into tommorrow. We have missed the heaviest falls, which have been occurring on the Sunshine Coast, N of Brisbane, where they have been having downpours of over 200mm (8inches) in some parts several times in the last week, due to an E-W trough sitting there.

A 998hpa low pressure area with multiple centres is currently straddling the coast about 100km or so N of Brisbane, and winds are gusting to around 90km/hr (over 40 knots). This is combined with a large upper atmosphere low NW of the surface system, and a large High in the Tasman sea, the pressure gradient whipping up gale force winds along the E coast, and the convergence of warm moist tropical air from the Coral Sea and cooler polar air from the Southern Ocean causing the heavy rainfall.

The surface low is expected to move slowly inland and fizzle out over the next 24 hours, although the TV weather report says that we can expect showers to continue up to the weekend.

An active monsoon trough runs E-W across the NT, the Gulf of Carpentaria, and Cape York, and turns SE in the Coral Sea, where a tropical low is forming near Vanuatu. Currently, there is no strong upper level westerly to keep it offshore, and, should a cyclone develop, the upper level low over Qld may actually draw it to the SW towards us (pure speculation!), so perhaps the wet will return and continue in to next week (although the WeatherNews International forecast off the TV news says next week will be fine, however, their forecasts have been spectacularly inaccurate recently, having previously predicted mainly fine weather for the period of our soaking!).

Anyway, you are far removed from our wet season, and that's enough of my ramblings for now.

Carl.
---
Message at 11pm 9-2-99
Hi Phil,
Well, SE Qld is undergoing once in a hundred years type flooding at the moment, with 4 dead and several missing.

We had about 100mm (4 inches) last night, while Brisbane had 200mm (8 inches), while parts of the Sunshine Coast copped over 400mm (16 inches) in just 9 hours overnight!

130 roads were closed in Brisbane due to flooding and landslides this morning, throwing peak hour traffic into chaos. The Bruce Highway N of Brisbane is cut in several places, and so is the train line N.

Brisbane & the Sunshine Coast have been declared disaster areas.

The Wivenhoe dam on the Brisbane river, built after the disasterous Brisbane floods of 1974, which can hold 4 times as much water as Sydney harbour, has absorbed most of the biggest flood in living memory in the catchment area, being 2 metres above the previous highest (lucky the last few years have been dry so the dam was quite low), however, they opened the flood gates this afternoon as the water level is getting too high to contain, and heavy rain is continuing in the catchment as the low pressure system moves inland.

Anxious residents around Gympie, N of Brisbane, are awaiting a 22-24 metre flood peak around 6am in the morning.

As I am writing this, the Midnight ABC radio news just now reported that the flood in Gympie is already 21.5 metres, 15 metres above the bridge across the Mary river, and up to the shop awnings in the main street!

The long range forecaster was on the TV earlier tonight, and he said the rains will ease off and clear by the weekend. He has predicted similar wet conditions for late February-early March and even wetter conditions in late March-early April, and possibly again in early May. He seems to be generally more accurate than WeatherNews International, and although the cyclone he predicted for the Brisbane region for late January-early February did not happen, the cyclonic type rainfall he predicted for this period certainly did arrive! He said he uses sunspot and solar flare activity as part of his prediction method.

I will watch with interest how correct he proves to be!

The clouds thinned a little today, and the rain has eased off, with just frequent showers, and the wind has dropped to a gusty 40-50 kph (perhaps 20-25 knots).

The monsoon trough across Northern Australia is very active with several embeded lows and has drifted southwards, with tropical low developing in the Coral Sea near Cairns, which may develop into a cyclone over the next few days.

Anyway, that's enough of my weather ramblings for now.

Carl.
---
Message at 11pm 16-2-99
Hi Phil,
If you have been watching ATV news, you would be aware that cyclone Rona popped up very quickly, being declared a cyclone of no real threat at 8am, the first warning for Cairns released at 11am, and flattened Cow Bay, about 30km N of Port Douglas, at 11pm.

Not much of a warning for that one!

I used to live at Cow Bay, and saw the site of a resort destroyed by Rona when they first proposed to build it. Both myself and many locals saw then that it was a disaster waiting to happen, being built in a tidal swamp.
They built in little pockets cleared in the swamp, and, with Rona's wind, the few well rooted trees were snapped off about 12 feet above ground, and the many rainforest species, which are not so well rooted and growing in permanently soggy mud, were simply flattened, which totally demolished the resort. It should never have been permitted to be built there in the first place.

The low that was Rona is still dumping rain, having moved slowly down inland of the coast to near Mackay, and is expected to move back out into the Coral Sea in the next few hours, where it may reform into a cyclone again.

Also, you may know that an annular eclipse of the Sun occurred earlier today, the path crossing the coast near Geraldton in WA, acrossTenant Creek NT, Burketown in the Gulf country, and left Oz again near a few kms N of Bloomfield, the annular path extending up the E coast from about N of Port Douglas to S of Cooktown.

I used to live a few kms N of Bloomfield at a property called Auravale, which was directly in centre of the eclipse path.

The astrologers are going to have some fun tying together the eclipse and the cyclone, which coincidently crossed the coast in the annular eclipse path, some 4 days and 19 hours before the annular phase of the eclipse!

Anyway, thats enough for now.

Carl.

PS To show how quickly Rona happeed, I've included some of the BOM warning info.

10/2/1999 3pm 995hpa 15.0S 148.2E
10/2/1999 10pm 995hpa 15.5S 148.8E 380km E Cooktown
11/2/1999 8am 990hpa 16.3S 148.2E 270km ENE Cairns Rona 1 100km/h
11/2/1999 11am 987hpa 16.3S 147.8E 235km ENE Cairns Rona 1 100km/h
11/2/1999 3pm 975kpa 16.8S 146.9E 130km E Cairns Rona 2 150km/h
11/2/1999 5pm 970hpa 16.6S 146.6E 100km E Cairns Rona 3 180km/h
11/2/1999 6pm 970hpa 16.5S 146.5E 95km ENE Cairns Rona 3 180km/h
11/2/1999 7pm 970hpa 16.5S 146.3E 75km NE Cairns Rona 3 180km/h
11/2/1999 8pm 970hpa 16.5S 146.2E 65km NE Cairns Rona 3 180km/h
11/2/1999 10pm 970hpa 16.4S 145.8E 50km NNE Cairns Rona 3 180km/h Dest 100km
11/2/1999 11pm 970hpa 16.2S 145.5E Coast nr Port Douglas Rona 3 170km/h Dest 100km
12/2/1999 12am 975hpa 16.2S 145.3E inland 30km NW Port Douglas Rona 2 150km/h Dest 60km
12/2/1999 1am 980hpa 16.2S 145.1E inland 40km WNW Port Douglas Rona 2 130km/h Dest 40km
12/2/1999 11am Ex-Rona well inland Port Douglas
12/2/1999 10pm 995hpa 15.8S 144.2E overland stationary
13/2/1999 7am 994hpa 16.5S 145.5E

(Extracts of warnings downloaded from The Bureau of Meteorology, Australia, Web site at http://www.bom.gov.au) Copyright Commonwealth of Australia 1999, Bureau of Meteorology.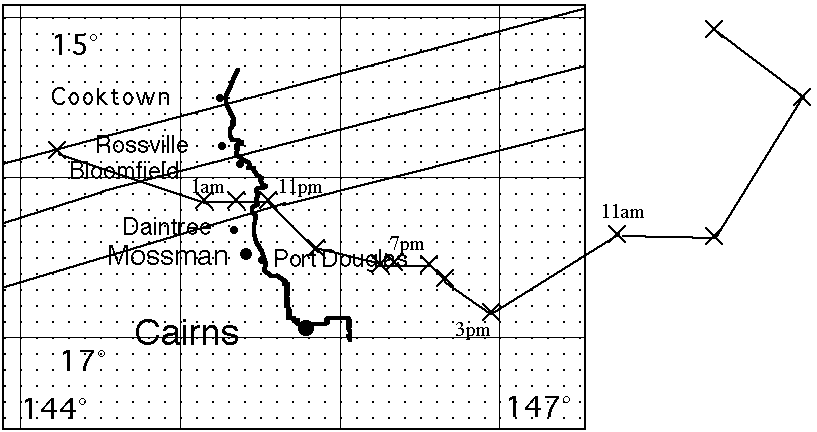 This GIF by Carl shows the annular eclipse of the sun path and the path of cyclone Rona superimposed on one map. Interesting.
---
Acknowledgements:
The original satellite images used for rona10am10to130299_15x6hr.gif were downloaded from The Bureau of Meteorology, Australia, Web site at http://www.bom.gov.au.
They were sourced from the Geostationary Meteorological Satellite (GMS 5) of the Japan Meteorological Agency (JMA). .The Commonwealth of Australia (Bureau of Meteorology) received and processed the GMS-5 images.
The images supplied are 12 kilometre resolution 640x512 pixel Lambert conformal projections at 5 bits per pixel. Extracts of these were used to make the animated GIF.


---
Maintained by Carl Smith.
carls@ace-net.com.au
© Carl Smith 1999 - 2000. All maps, images, and other information on these Web pages is copyright, either by Carl Smith, or by the agencies that produce the satellite images and other weather related information, as indicated in each case. It is essential to obtain permission in writing from the copyright owner before reproducing any of the information on this website in any form whatsoever except for fair purposes of review as permitted under copyright legislation.
DISCLAIMER: Carl Smith is not responsible or liable in any way whatsoever for the manner in which any person, group, or business, chooses to use the information in this website or the consequences thereof. Whilst all due care is taken to ensure the accuracy of the information contained herein, there may be errors, and the information here is not necessarily up to date. All persons are reminded that it is essential to obtain current information from relevent authorities regarding current or potential cyclones.